What is "Seta-on?"

Seta-on, Setagaya Arts Foundation Music Project Department was established in April of 2007 to enable people from all walks of life to enjoy a variety of musical expressions within the Setagaya community. Its activities go by the nickname of "Seta-on."
Headed by composer, Shinichiro Ikebe as music director, and composer/stage music director, Akira Miyagawa as special producer, our goal is to make the most of the special features of Setagaya contributing to create a lively community. Not having a dedicated music/rehearsal hall of our own, public performances are primarily held at ward facilities such as Setagaya Kumin Kaikan (Civic Hall), Seijo Hall, etc. for a wide range of music projects.
In addition, from 2010, Setagaya ward has begun co-sponsoring the Setagaya Junior Orchestra overseeing their regular performances and autumn concert. They also carry out their duty as Seta-on Goodwill Ambassadors doing exchanges with other junior orchestras.
Read more on Shinichiro Ikebe, music director
Read more on Akira Miyagawa, special producer
Previous Concerts and Projects
Chamber Music Series

Classical music fans will delight in performances by Setagaya citizens and top level musicians.

Photo: Takehiko Hashimoto
Autumn Concert

This beginners' concert features classical music that can be enjoyed by families: an annual event presented by the Setagaya Junior Orchestra.

Photo: Noriko Masuda
Music Director Project

This is a special Setagaya original collaborative project with the music director inviting professionals from other fields sharing their abundant knowledge and knowhow to join him in unique talks and joint performances.

Photo: Takehiko Hashimoto
Concert of Various Genres

This unique program seeks to share with audience a world of new music, as well as projects other than classical music.

Photo: Takehiko Hashimoto
Concert by Amateur Performers

"Concert of Musical Masterpieces" performed by Setagaya Philharmonic Orchestra together with Setagaya Citizens' Chorus, as well as "Setagaya Band Battle" performed by amateur bands.

Photo: Noriko Masuda
"Street Corner Concert" Series

This concert series features musicians performing live at various street corners across Setagaya. It's a chance to see unusual instruments such as ocarina, accordion and handbells being played.
Various Workshops and Lectures

To enrich and discover your sense of creativity and imagination, these workshops and lectures appeal to audience of all ages. In particular, "Let's Sing Gospels!" and "Setagaya Music Laboratory" directed by our special producer, Akira Miyagawa have gathered a large audience.
School Outreach Program

In collaboration with the ward's elementary and junior high schools, this is an outreach program where special courses are conducted in schools. Additionally, lecturers are dispatched to schools to facilitate their music department activities.
Furthermore, upon requests by the residents' association and shopping districts, we dispatch musicians to various venues, sponsor various events such as the "Setagaya Art Award", publish "Setagaya Music Information" commissioned by Setagaya, and basically sponsor a wide variety of musical performances and projects.
---
Shinichiro Ikebe, Music Director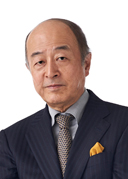 Composer, born in Mito City in 1943
Graduated from Tokyo University of the Arts in 1967.
Finished Graduate School in 1971.
Studied under Tomojiro Ikeuchi, Akio Yashiro, Akira Miyoshi, and Yuzuru Shimaoka.
In 1966, placed 1st in Japan Music Competition.
In the same year, placed 1st in the Composer & Lyricist Competition sponsored by Ongaku no Tomosha.
1968, received Ongaku no Tomosha Award.
Thereafter, won countless awards such as the Salzburg TV Opera Festival Outstanding Award, Italian TV Station Award-3 times, International Emmy Award, Art Festival Outstanding Music Award-4 times, Odaka Award-3 times, Mainichi Film Competition Music Award-3 times, Japan Academy Award Outstanding Music Award-9 times (3 of which were Most Outstanding Music Award).
In 1997, he received NHK Philharmonic Orchestra/Arima Award.
In 2002, Broadcast Culture Award, 2011 Yokohama Culture Award, 2015 Himeji City Art Culture Grand Award, 2016 Akio Watanabe Music Fund Special Award. Awarded the Medal of Purple Ribbon in 2004, selected as a Person of Cultural Merit in 2018 and awarded the Order of the Rising Sun, 3rd Class, Gold Rays with Neck Ribbon in 2022.
He is currently a professor at Tokyo College of Music, Tokyo Opera City Music Director, Ishikawa Prefecture Music Hall / European Music Director, Setagaya Art Foundation Music Division Director, and Himeji City Cultural and International Exchange Foundation Art Director, as well as committee member, advisor, councilman, and selection committee judge of music competitions of numerous other cultural organizations .
Since 1996, for 13 years, he has been a popular MC for "NHK Philharmonic Hour" on NHK-TV. Since April of 2015, he has been a commentator for NHK-FM program "NHK Philharmonic/The Legend."
Original compositions include Symphony No. 1~11, 3 Piano Symphonies, Cello Concerto, Opera "Shinigami" "Miminashi Hoichi" "Rokumeikan" "Koya Hijiri" as well as numerous orchestra music, chamber music, and choral music."
Movie soundtracks include Kagemusha" "Narayama Bushiko" "Unagi" "Setouchi Shonen Yakyu" "Spy Zolge" "Garden of Balto" "Kengaku Tennoki" and "Haruo Seotte"
TV soundtracks include "Hachidai Shogun Yoshimune"" Genroku Ryoran". Movie, drama soundtracks and theater music total nearly 520 pieces.
Books include "Otonoii Nokoshitamono" "Splash" "Sorawo Mitemasuka 1~7" "Bach's Musical Notes" "Mozart's Musical Notes" "Brahms Musical Notes" "Shubert's Musical Notes" "Beethoven's Musical Notes."
---
Akira Miyagawa, Special Producer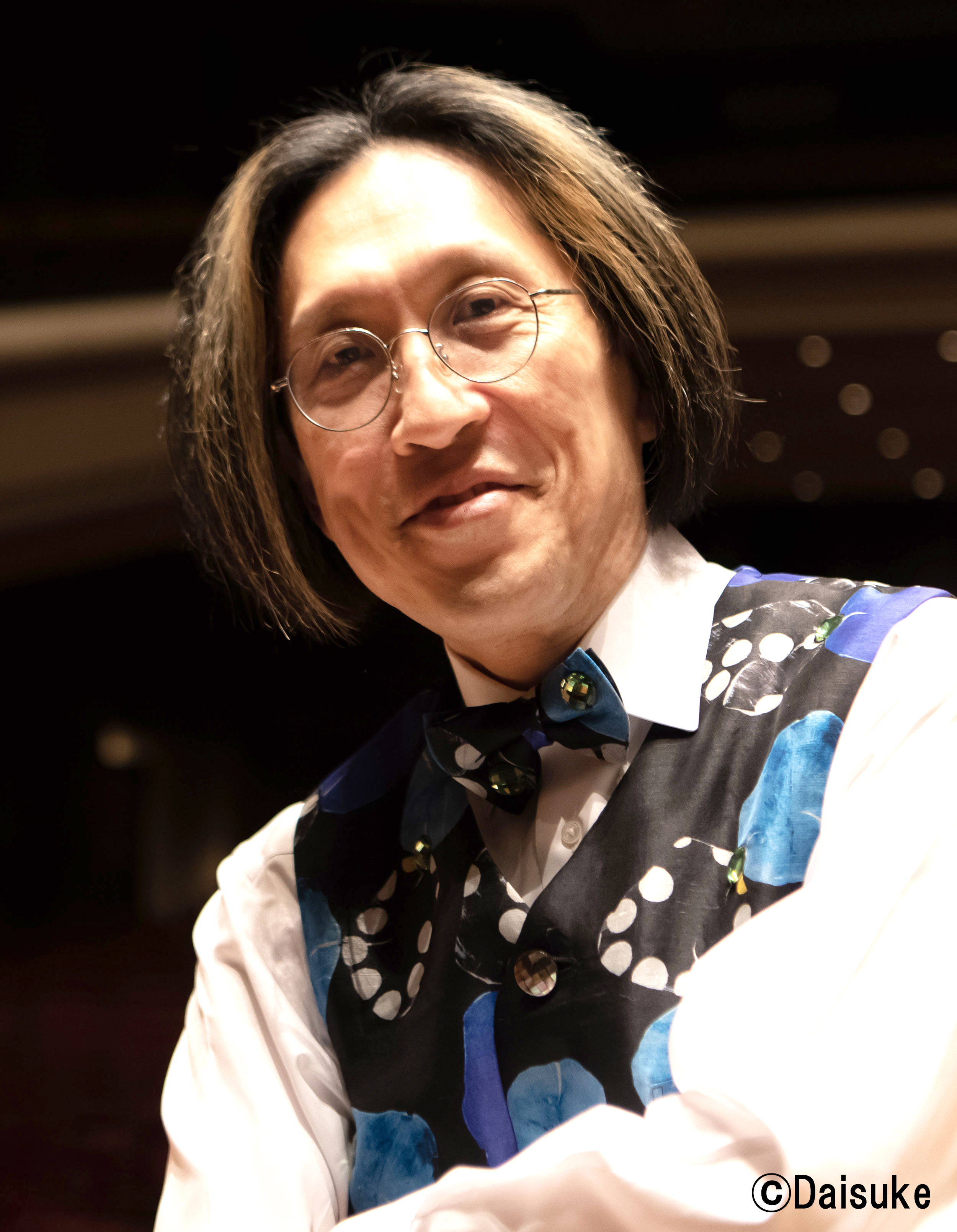 Composer, born in Tokyo in 1961
He made his debut composing music for Shiki Theatre Company and Tokyo Disneyland shows, among others. He went on to compose music for numerous musicals and plays. His representative works include Shintokumaru (Excellence Award of the Yomiuri Theater Awards), Miracle (Best Musical Award of the Tokyo Metropolitan Theater), Hamlet (Excellence Award of the Yomiuri Theater Awards), Tempo Juninen no Shakespeare (Excellence Award of the Yomiuri Theater Awards), One Man's Dream, and Dorothy – The Wonderful Wizard of Oz. Moreover, Matsuken Samba he composed for a show became hugely popular, resulting in a hit song that originated from the stage.
He produced music for and also appeared in NHK E-tele's Quintet, Do Re Mi Fa Wonderland for BS2, and Showtime by Akira Miyagawa for BS Premium. He has written music extensively for the animes, Hoshi no Kirby and Space Battleship Yamato 2199/2202 , as well as for NHK's Thursday Theater, Chikaemon, NHK TV Series, Hiyokko , special feature drama, Idol, the opening theme song for the 68th Kohaku Utagassen, and orchestral music in Kaze no Olivastro and Symphonic Mambo No. 5 . Based on his motto, "Concerts are shows," he engages actively in performing in various regions.
In 2022, he published a collection of essays, "Akira-san" Is a Genius Who Enjoys Music (NHK Publishing, Inc. ).
---
Setagaya Junior Orchestra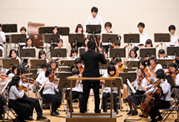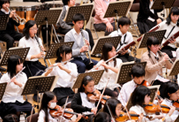 'Orchestra Instrument Experience Workshop' was proposed by Ikebe Music Director, (the first in 2008 for 7 mos. followed by the second in 2009 for 3 mos.) and in April of 2010, 'Junior Orchestra' officially became active.
In a small society such as an 'orchestra', what is important is not just the improvement in skills of individual member. Through music, Setagaya Junior Orchestra cultivates each member's aesthetic sentiments and cooperation, with its primary goal to nurture humanistic sensitivity and social harmony.
Members are comprised of elementary school children from 3rd grade up to seniors in high school who reside in the Setagaya ward. With an extensive age range and personality, the members enthusiastically enjoy the challenge of practicing with each other. Photo: Satoshi Aoyagi Setagaya Junior Orchestra website