Setagaya Music Fes in Kinuta
Events Details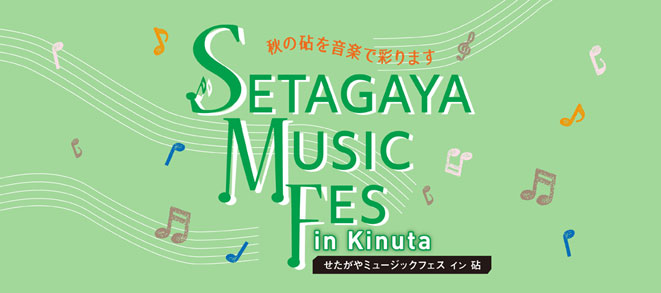 Setagaya Music Fes in Kinuta
---
Sunday, September 18, 2022 Starts at 4:00 P.M.
Seijo Hall

Access Map

Link to Google Maps

Address: 6-2-1 Seijo, Setagaya-ku, Tokyo
Note: No parking is available. Please use the train or bus.

Access:
By train, take the Odakyu Line, and get off at 'Seijo Gakuenmae'. (4 min walk)
The concert aims to vitalize the Kinuta area through music, including singing, performing and dancing.
Enjoy performances by musical groups and guests.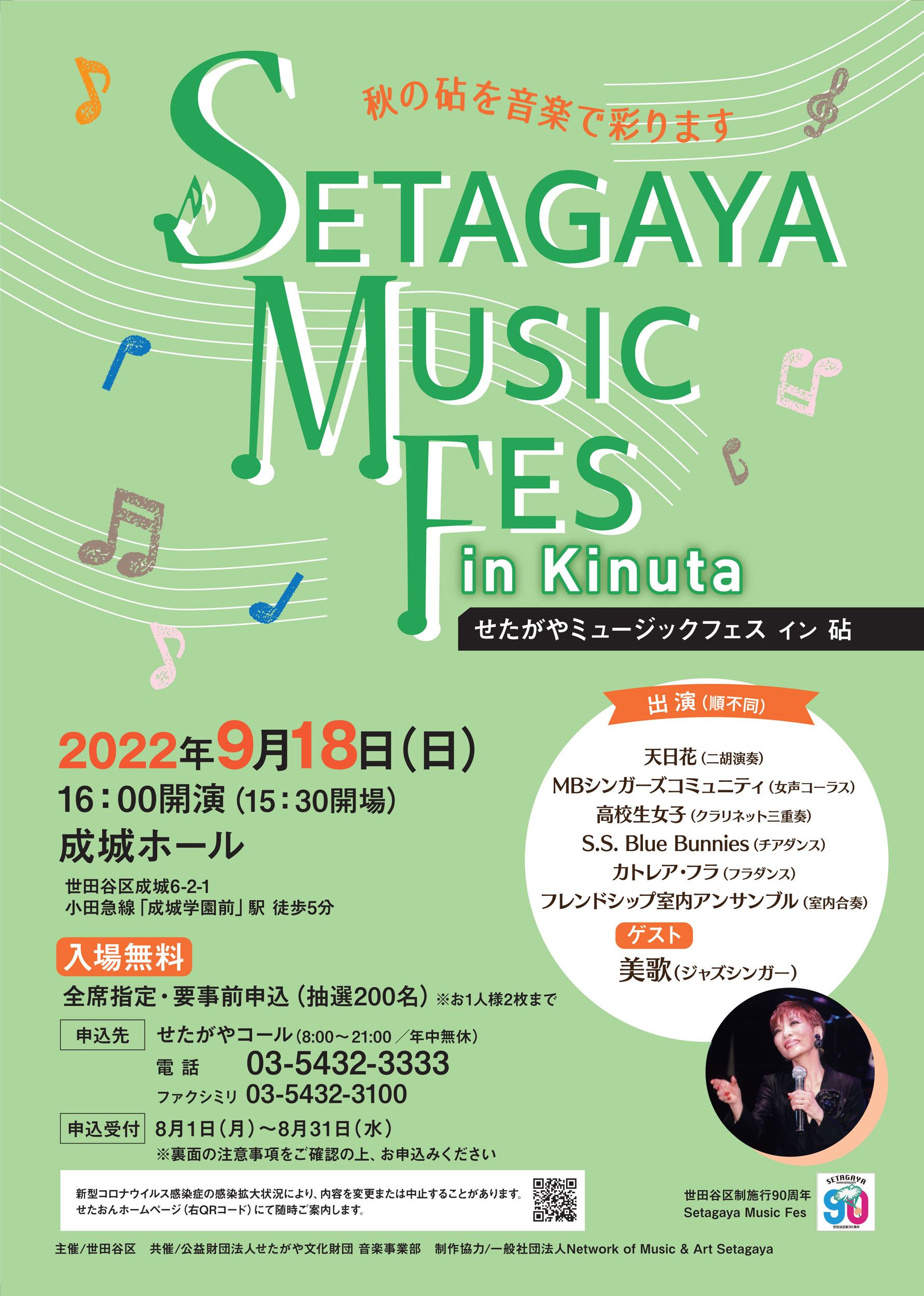 Performers (in random order)

天日花(二胡演奏)
MBシンガーズコミュニティ(女声コーラス)
高校生女子(クラリネット三重奏)
S.S. Blue Bunnies(チアダンス)
カトレア・フラ(フラダンス)
フレンドシップ室内アンサンブル(室内合奏)

Guests

美歌(ジャズシンガー) プロフィール…

【MIKA'S BAND】
堺敦生 (ピアノ)
小枝英隆(ギター)
小高正志(ベース)
稲垣貴康(ドラム)
中藤節子(バイオリン)

Music performed by guests

ムーンライト・セレナーデ
ペーパームーン
月光値千金
リバーサイドホテル
ワインレッドの心   他

※曲目が変更となることがあります
---
Admission fees

[Free] Reserved seats only. Apply in advance (to enter a draw with 200 winners)
*Maximum of two tickets per person
*Wheelchair space available (limited number / reservations required)

Application period

2022年8/1(月)~8/31(水)

Applications to

[Setagaya Call] (8:00 A.M. – 9:00 P.M. Seven days a week)
Phone: 03-5432-3333
Fax: 03-5432-3100

Miscellaneous

Winners will be notified by post card (planned posting date is September
6).

*Be sure to read "A Request for Visitors to Prevent the Spread of COVID-19" before coming to the venue.
---
Profile
---
Sponsor

City of Setagaya

Cosponsor

Setagaya Arts Foundation Music Project Department

Cooperation in production

Network of Music & Art Setagaya

Inquiries

世田谷区文化・国際課 電話 03-6304-3427