Call for Groups to Take Part in the "Setagaya A Cappella Battle"!
Events Details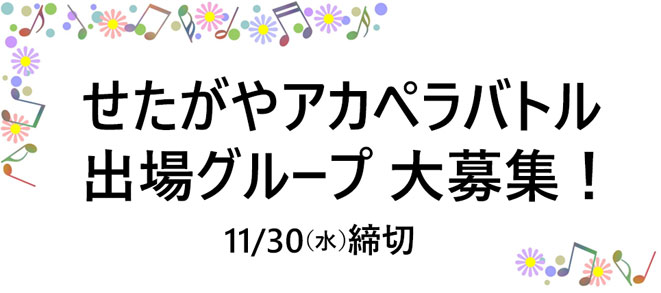 Call for Groups to Take Part in the "Setagaya A Cappella Battle"!
Applications have closed
---
Accepting applications: Saturday, October 1 – Wednesday, November 30, 2022
A new "battle" series is about to begin in Setagaya!!
All that's required is your voice. Come and try your luck in making it to the final contest to be held in February!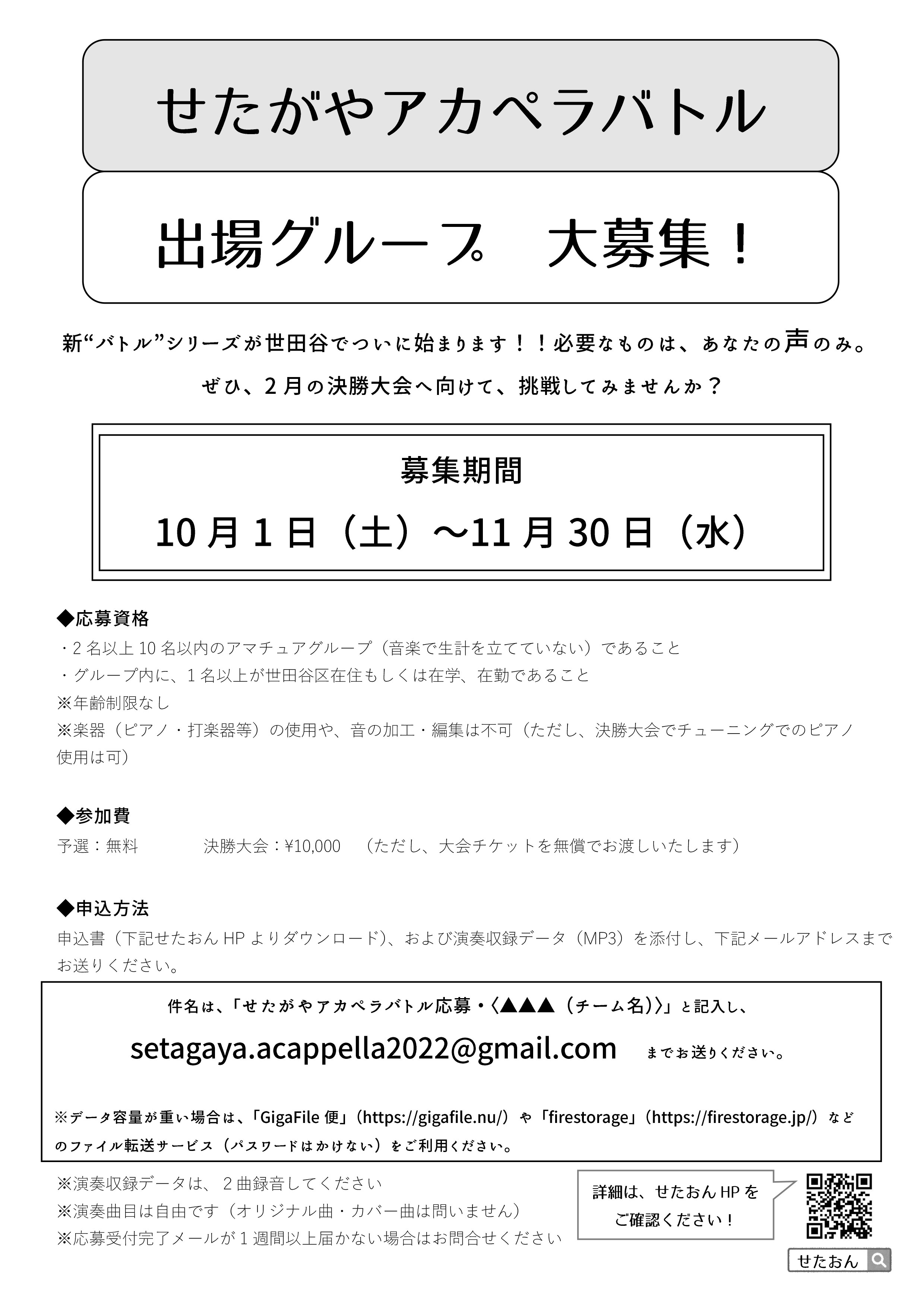 Click here for flyer (PDF file)
Application requirements

– Must be an amateur group (not making a living through music) consisting of 2 to 10 members.
– At least one person in the group must live, study or work in Setagaya City.
*No restrictions on age.
*Musical instruments (piano, percussion instruments, etc.) may not be used and voices must not be processed or edited (however, a piano may be used during the final contest for the purpose of tuning).
---
Fees

[Preliminary contest] Free
[Final contest] 10,000 yen (includes admission tickets)
---
How to apply

Attach application form (PDF file) and data of your performance (MP3) and send to the e-mail address below:
*Write "Application for the Setagaya A Cappella Battle (XXX (name of team))"

setagaya.acappella2022@gmail.com

*If the data is too heavy, you may use "GigaFile Bin," "firestorage"or other file transfer services (do not set passwords).

Data of recorded performances

– Make recordings of two songs.
– Songs may be chosen freely (original or cover songs).

Miscellaneous

Please inquire if you do not receive e-mail confirmation within one week of applying.
---
The results of the preliminary contest

The results of the preliminary contest will be sent to the representative's address in early December. Groups with tickets to the final contest will receive further details.
---
Contest overview

[Preliminary Contest]  Document and audio screening

[Final Contest] Begins 3:00 P.M. on Sunday, February 5, 2023, at Tamagawa Seseragi Hall.
Judgment by a panel of judges
---
Judges at the final contest
---
Sponsor

Setagaya Arts Foundation Music Project Department

Support

City of Setagaya
Setagaya City Board of Education

Cooperation

Taishidou Musical Instrument Store
Matsumoto Memorial Music Guest House
Setagaya General Service Co., Ltd., Community Radio Station FM Setagaya
Setagaya City 90th Anniversary