[Cross-Genre Collaboration]"Climate and Music," Intertwining of Stories with Music
Events Details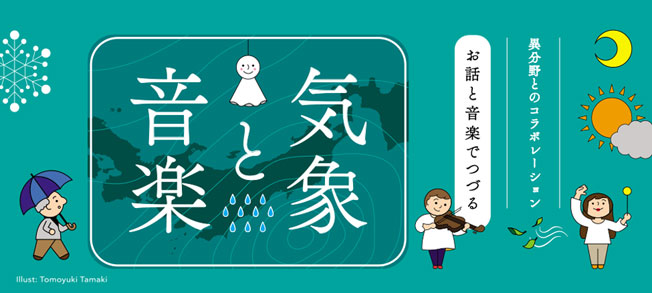 [Cross-Genre Collaboration]
"Climate and Music," Intertwining of Stories with Music
Pre-school children may not enter
The venue, start time, seat types, and start of ticket sales have been changed.
---
Saturday, March 18, 2023 Starts at 4:00 P.M.
ARENA HALL

Access Map
A special series of events produced by the Seta-on music director, Shinichiro Ikebe .
The theme for this event will be "Climate and Music." Weather forecaster, Kyoko Sasaki, will talk about how to find beautiful skies, and how to enjoy implementing measures against global warming, the biggest issue faced by humanity! Spend a moment of fun listening to the talk along with music performed by talented musicians.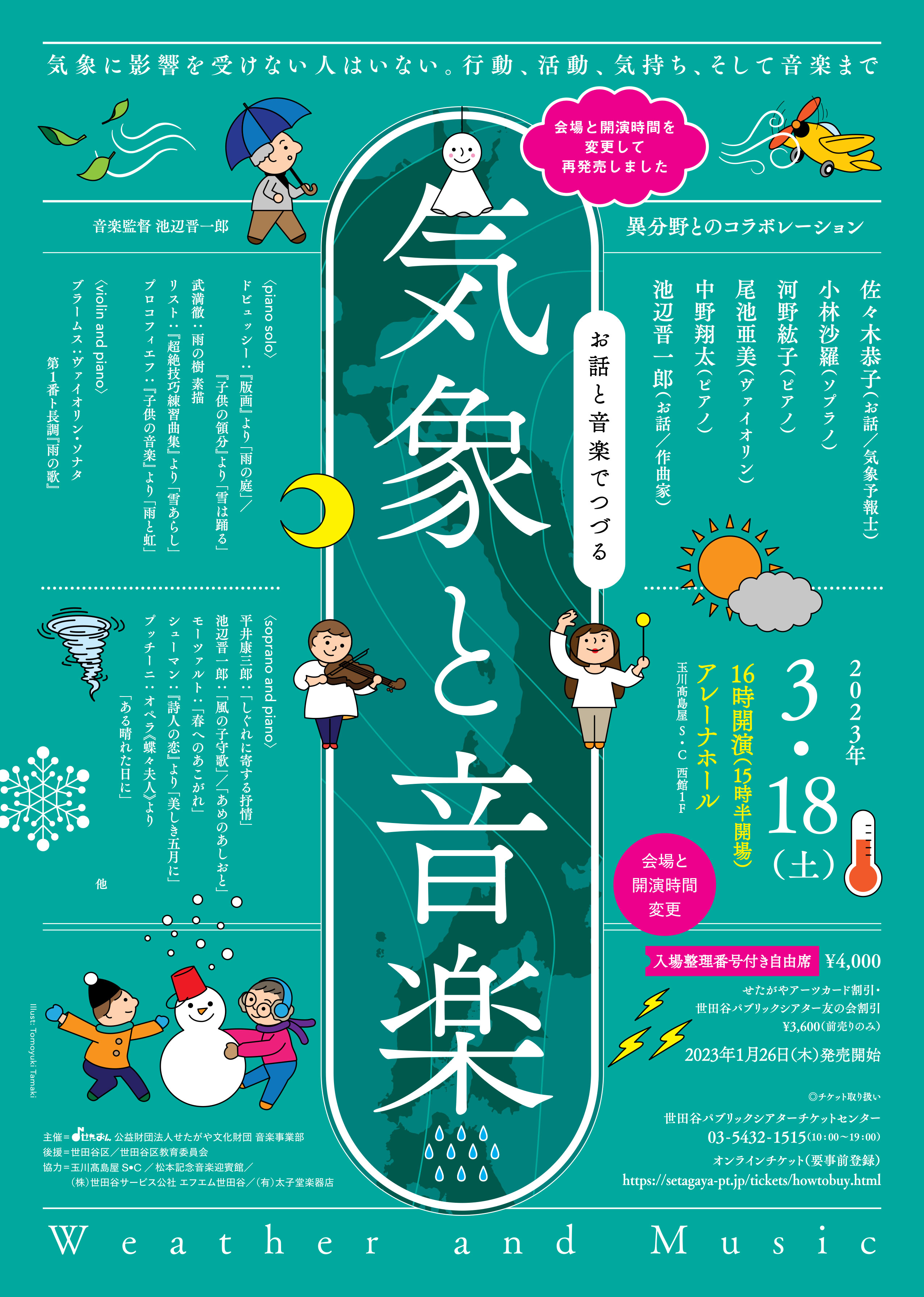 Performers
---
Program

[Piano Solo]
Debussy: "Gardens in the Rain" from Prints / "The Snow Is Dancing" from Children's Corner
Toru Takemitsu: Rain Tree Sketch
Liszt: "Snow-Whirls" from Transcendentl Études
Prokofiev: "The Rain and the Rainbow" from Music for Children

[Violin and Piano]
Brahms: The Violin Sonata No. 1 in G major, "Rain Sonata"

[Soprano and Piano]
Kozaburo Hirai: A Song to the Rain
Shinichiro Ikebe: Kaze no Komoriuta / Ame no Ashioto
Mozart: Longing for Spring
Schumann: "In the Lovely Month of May" from Poet's Love
Puccini: "One Fine Day" from the opera, Madame Butterfly
Among others
---
Admission fees

Free seats with numbered tickets for entering in order
General: 4,000yen
Setagaya Arts Card and Setagaya Public Theatre Club members: 3,600yen (advance sales only)
*Includes consumption tax
*Pre-school children may not enter

*Wheelchair spaces available (limited / reservations required)
Fee: 10% discount with free admission for one escort
Call the Setagaya Public Theatre Ticket Centre (03-5432-1515) by 7:00 P.M. on the day before the performance.

*Tickets will only be sold by phone or online. Tickets will not be sold or issued through the Ticket Centre.
*Payments are to be made at 7-Eleven or online using a credit card.
*Tickets will only be issued through ticket terminals at 7-Eleven (handling fee of 110 yen will be charged per ticket).

*Be sure to read "A Request for Visitors to Prevent the Spread of COVID-19" before coming to the venue.

Start of sales

10:00 A.M. Thursday, January 26, 2023
---
Profile
---
Musical supervision

Shinichiro Ikebe

Sponsor

Setagaya Arts Foundation Music Project Department

Support

City of Setagaya
Setagaya City Board of Education

Cooperation

Matsumoto Memorial Music Guest House
Setagaya General Service Co., Ltd., Community Radio Station FM Setagaya
Taishidou Musical Instrument Store