Akira Miyagawa's Setagaya Music Research Institute #15The One That Is Most Adaptable to Change Is the One That Survives (C. Darwin)
Events Details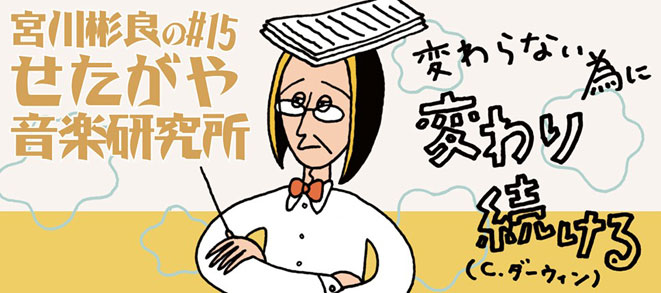 Akira Miyagawa's Setagaya Music Research Institute #15
The One That Is Most Adaptable to Change Is the One That Survives (C. Darwin)
Pre-school children may not enter
The performance has finished
---
Saturday, October 14, 2023Starts at 3:00 P.M.
Tamagawa Seseragi Hall

Access Map
Setagaya Music Research Institute: Compilation of all 14 performances from the past 10 years!
The event will reflect on the results of research to date in 90 full minutes of singing, laughing, making a commotion and crying a little.
Even first-time participants will understand everything through just this one event, while veteran fans will have a chance to revisit iconic memories.
Be sure to witness the director's declaration of determination to shape the future with everyone!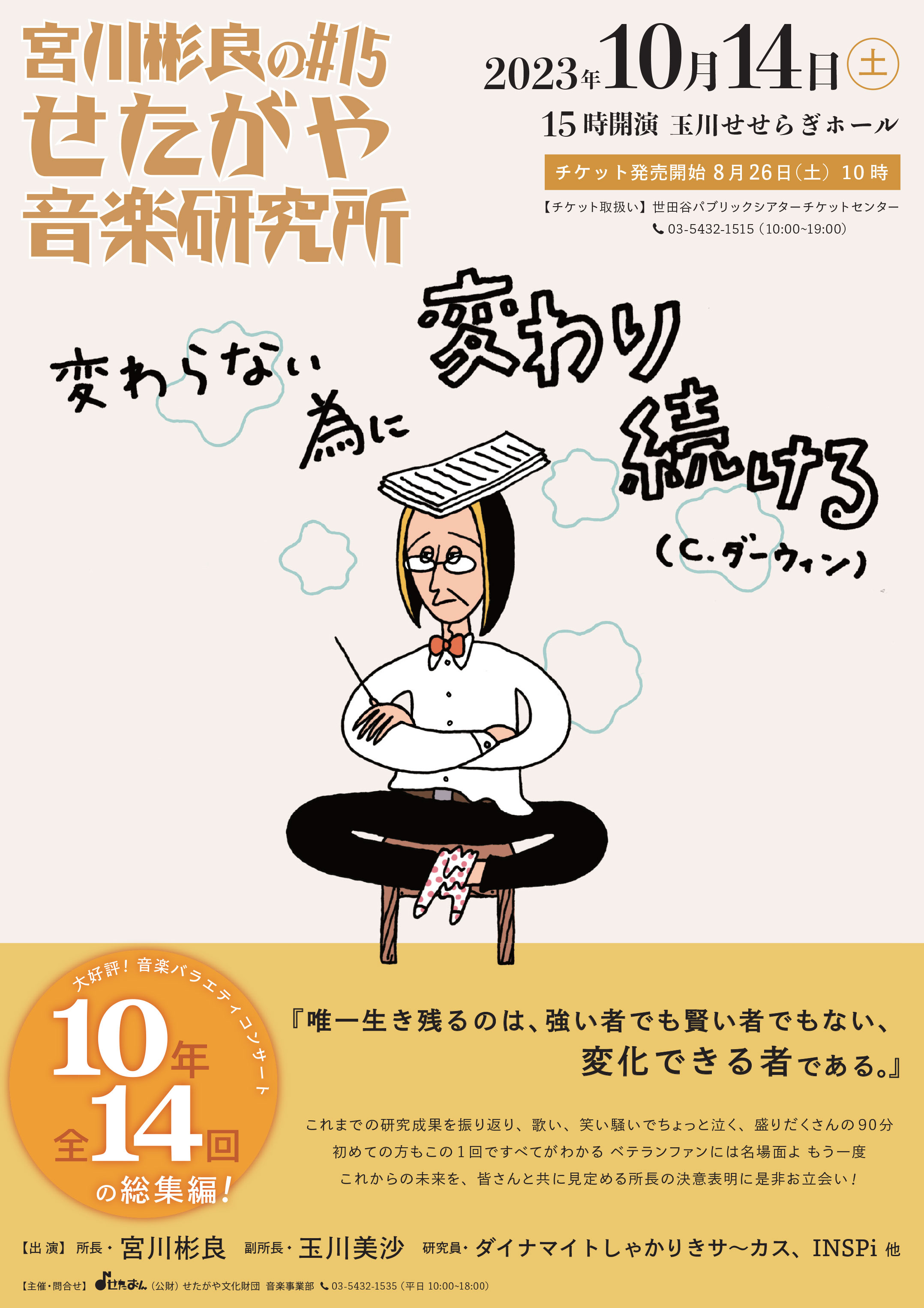 ---
Performers
---
Admission fees

General: 4,000yen
Setagaya Arts Card and Setagaya Public Theatre Club members: 3,000yen (advance sales only)
Children below high school age: 1,500yen (present ID on the day)

*Reserved seats only / Includes consumption tax
*Pre-school children may not enter

*Wheelchair spaces available (limited / reservations required)
Fee: 3,600yen with free admission for one escort
Call the Setagaya Public Theatre Ticket Centre (03-5432-1515) by 7:00 P.M. on the day before the performance.

[Start of sales: Thursday, August 31]
– Tickets are available for booking by phone or online only. Tickets will not be sold or issued over the Ticket Center counter.
– Payments may be made over the counter at Seven-Eleven, or online via credit cards.
– Tickets will only be issued via the Seven-Eleven ticket issuing service (a handling fee of 110 yen per ticket will apply).

[After 10:00 AM., Friday, September 1]
The selling and issuing of tickets over the Ticket Center counter will resume.
[Business hours] 10:00 A.M. – 7:00 P.M. (excluding the end-of-year and New-Year period)
*Tickets will continue being sold via phone and online, and issued through Seven-Eleven.

Start of sales

10:00 A.M. Saturday, August 26, 2023
---
Profile
---
Sponsor

Setagaya Arts Foundation Music Project Department

Support

City of Setagaya
Setagaya City Board of Education

Cooperation

Matsumoto Memorial Music Guest House
Setagaya General Service Co., Ltd., Community Radio Station FM Setagaya
Taishidou Musical Instrument Store