[Cross-Genre Collaboration]17th Concert"Animals and Music," Intertwining of Stories with Music
Events Details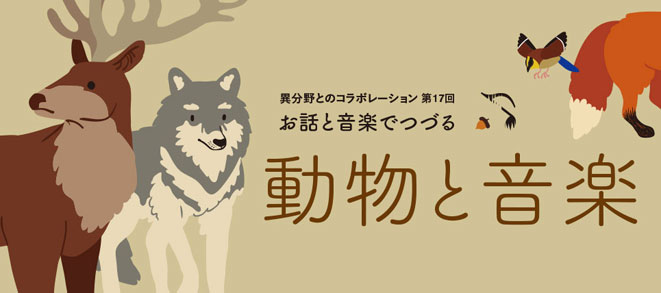 [Cross-Genre Collaboration]17th Concert
"Animals and Music," Intertwining of Stories with Music
Pre-school children may not enter
---
Saturday, December 9, 2023  Starts at 3:00 P.M.
Karasuyama Kumin Kaikan Hall

Access Map

Link to Google Maps

Address: 6-2-19 Minamikarasuyama, Setagaya City, Tokyo
* No parking spaces are available. Please come by train or bus.

Access: 1 minute on foot from the North Exit of Chitose-karasuyama Station
By bus: Chitose-karasuyama-eki Bus Stop on the Odakyu Bus / Keio Bus
This is a series of performances planned by Shinichiro Ikebe , a renowned composer in Japan and the Seta-on music director.
Tadaaki Imaizumi, who supervised the bestseller, Zannen na Ikimono Jiten , was invited to the performance this time to give a talk on the theme of "animals and music."
The audience can also enjoy a star-studded cast, with outstanding singing and narration by Mutsumi Hatano , and well-known animal songs sung by Daisuke Suzuki and Asuka Iino.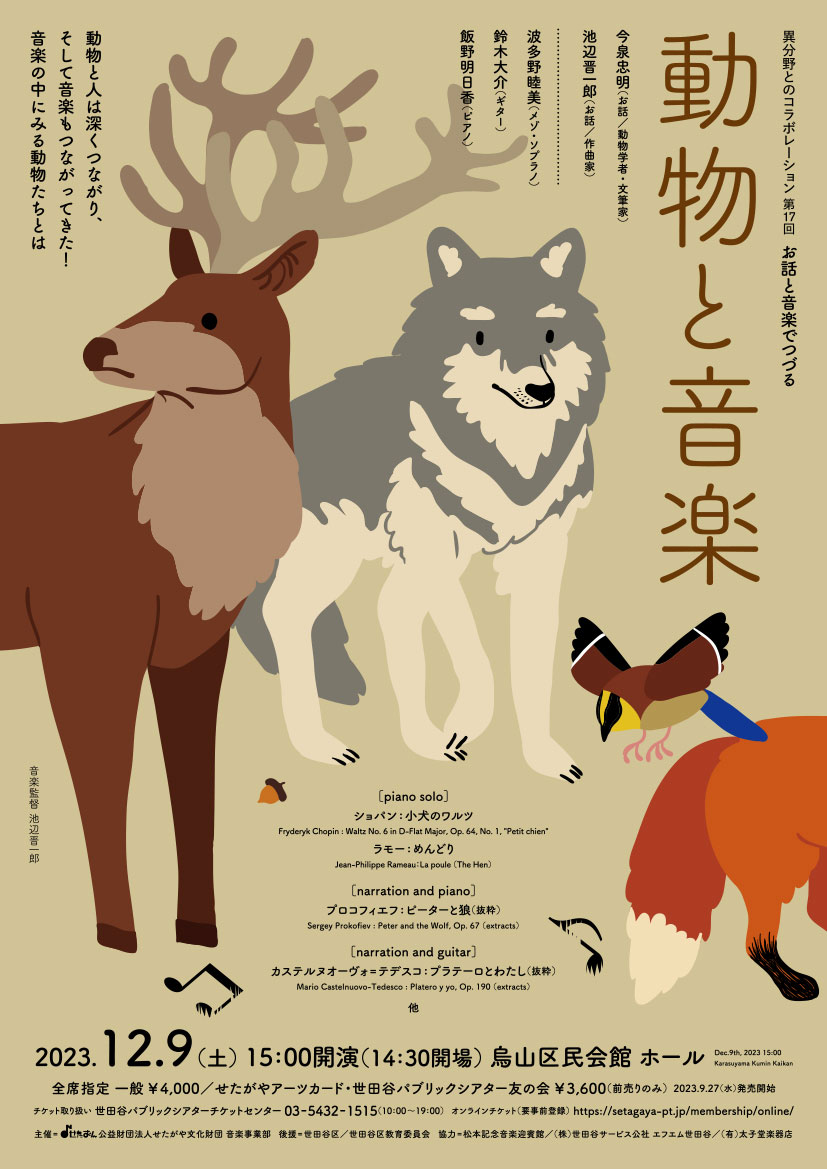 Click here for flyer (PDF file)
---
Music is connected to everything. That is the reason behind this series. But this time, it is a collaboration with animals. Music has maintained deep connections with not only familiar animals like cats and dogs , but also with insects, fish, birds and other wild animals, and even mythical creatures. But there are surprisingly few concerts that approach music from such a perspective. That is what inspired us to organize this concert. There are numerous pieces of well-known music. This collaboration with animals will be performed by master musicians. It is going to be full of fun, so you can look forward to it!
Shinichiro Ikebe, Music Director
Performers
---
Program

[piano solo]
Fryderyk Chopin: Waltz No. 6 in D-Flat Major, Op. 64, No. 1, "Petit chien"
Jean-Philippe Rameau: La poule (The Hen)

[narration and piano]
Sergey Prokofiev: Peter and the Wolf, Op. 67 (extracts)

[narration and guitar]
Mario Castelnuovo-Tedesco: Platero y yo, Op. 190 (extracts)  Others
---
Admission fees

General: 4,000yen
Setagaya Arts Card and Setagaya Public Theatre Club members: 3,600yen (advance sales only)
*Reserved seats only / Includes consumption tax
*Pre-school children may not enter

*Wheelchair spaces available (limited / reservations required)
Fee: 3,600yen with free admission for one escort
Call the Setagaya Public Theatre Ticket Centre (03-5432-1515) by 7:00 P.M. on the day before the performance.

Start of sales

10:00 A.M. Wednesday, September 27, 2023

*Tickets will be sold online and via telephone on the first day of sales. They will become available over the counter from the following day.
---
Profile
---
Music Director

Shinichiro Ikebe

Sponsor

Setagaya Arts Foundation Music Project Department

Support

City of Setagaya
Setagaya City Board of Education

Cooperation

Matsumoto Memorial Music Guest House
Setagaya General Service Co., Ltd., Community Radio Station FM Setagaya
Taishidou Musical Instrument Store