Discovery Setagaya Sounds #2Eric Miyashiro All-Star Band
Events Details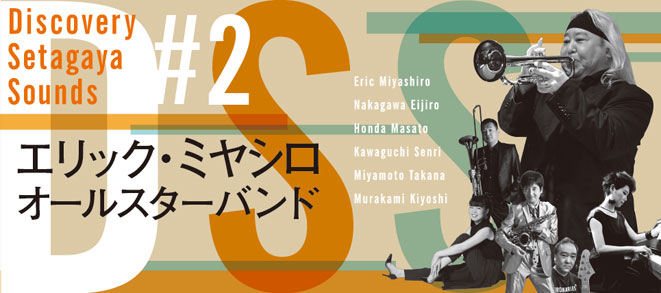 Discovery Setagaya Sounds #2
Eric Miyashiro All-Star Band
Pre-school children may not enter
The performance has finished
---
Saturday, January 14, 2023Starts at 3:00 P.M.
Tamagawa Seseragi Hall

Access Map
The second in the series of performances to deliver the sounds of musicians with connections to Setagaya will be joined by a world-class super trumpeter. Come and be overwhelmed by his outstanding skills and expressiveness, which have won the hearts of fans all over the world. Come to Setagaya and witness the session with a super-extravagant lineup of musicians performing on the front lines of music!
---
Performers
---
Program

Skydance
Heaven's Kitchen
Takarajima
Lupin the Third
What a Wonderful World, etc.
---
Admission fees

General: 4,500yen
Setagaya Arts Card and Setagaya Public Theatre Club members: 4,000yen (advance sales only)
*Reserved seats only / Includes consumption tax
*Pre-school children may not enter

*Wheelchair spaces available (limited / reservations required)
Fee: 10% discount with free admission for one escort
Call the Setagaya Public Theatre Ticket Centre (03-5432-1515) by 7:00 P.M. on the day before the performance.

*Tickets will only be sold by phone or online. Tickets will not be sold or issued through the Ticket Centre.
*Payments are to be made at 7-Eleven or online using a credit card.
*Tickets will only be issued through ticket terminals at 7-Eleven (handling fee of 110 yen will be charged per ticket).
*Be sure to read "A Request for Visitors to Prevent the Spread of COVID-19" before coming to the venue.

Start of sales

10:00 A.M. Tuesday, October 4, 2022

Seat layout

A change in size of the venue has resulted in changes to the original seating positions.
There are no changes to the seat numbers on tickets that have been purchased.

Click on the link below for the seat layout to check where you will be seated.
We apologize for the inconvenience. Thank you for your understanding and cooperation.
---
[See the rehearsal for free]
Young people with an interest in music are invited to see the rehearsal. It will offer a valuable opportunity to see professional musicians up close, making music in preparation for a concert!
Schedule

Starts 1:00 P.M. on Saturday, January 14, 2023 (scheduled to finish at 2:00 P.M.)

Targeting

Young people from junior high school students up to 25 years of age (IDs must be shown on the day)

*Age as of January 14, 2023

Applications accepted

From 12:00 noon on Tuesday, October 4 until 6:00 P.M. on Friday, January 13, 2023

How to apply

Apply online from below (link to external page, "teket").

*Maximum of around 50 people on a first-come-first-served basis.
*Seats cannot be booked in advance.
---
Profile
---
Sponsor

Setagaya Arts Foundation Music Project Department

Support

City of Setagaya
Setagaya City Board of Education

Cooperation

Taishidou Musical Instrument Store
Matsumoto Memorial Music Guest House
Setagaya General Service Co., Ltd., Community Radio Station FM Setagaya
Setagaya City 90th Anniversary